Benefits of a Vacation Home Rental in Florida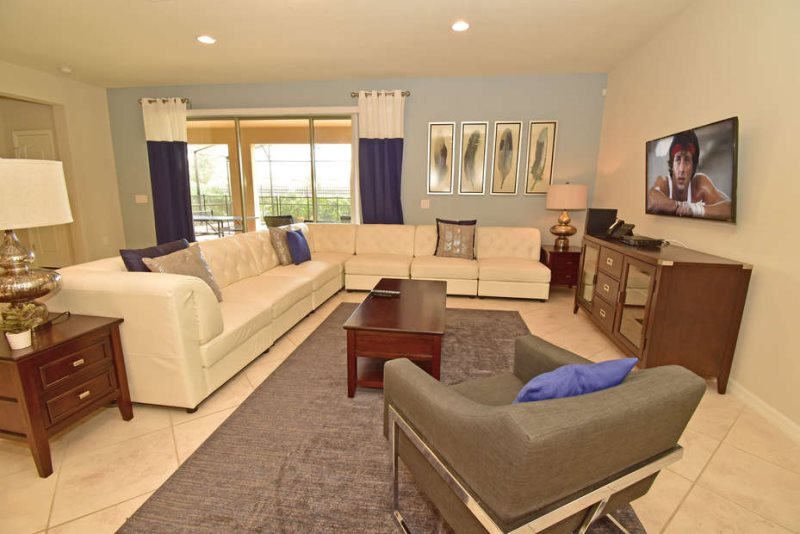 You can scrimp and save in many areas when planning a Florida vacation, but sometimes you might end up compromising your comfort and convenience just for saving a few bucks. You might think that where you stay is one area where you can spend less because you figure, well, how much time will we really be spending in the hotel anyway? But, don't be so quick to sacrifice a beautiful vacation pad. You can have a private, luxurious vacation rental home near Disney in Florida at a cost that would be less than you would be spending for your family of four at a hotel. Here are some advantages of a vacation home rental that will make you think twice before booking a hotel near Disney:
Benefit #1: The cost
Yes, it may seem obvious, butt so many families would not still be booking two hotel rooms and spending $2000 for 10 days. Vacation rental homes are so budget-friendly that you can be staying at a gorgeous private villa with a water park and private golf course for under $100 a
night depending on the season. This is half the price for two hotel rooms. Also, if you are sharing the vacation home rental near Disney with other people and dividing up the cost, this makes your cost per night even lower!

You also get more bang for your buck. If you are taking the fam to visit Disney World in Orlando, Florida, all the extras add up quickly. Many of the vacation rental homes in Orlando, Florida near Disney are within minutes from the amusement park. Your money will go a lot further on this vacation if you start the trip off right in a vacation rental home.
Benefit #2: Unmatched privacy
There's something to be said for not having to hear the couple next door return to the room at 4:00 AM, not having to weave between room service carts to refill the ice bucket, and not feel as though your neighbor right on the other side of the wall can hear everything you're doing and saying.
Wouldn't it be nice to wake up, walk down to the kitchen to get a cup of coffee in your nightie, or maybe read the paper and watch the sunrise alone by the pool before the rest of the family is awake, or even go for a late night skinny dip session with your significant other after the kids are put to bed (ooo-la-la). Unfortunately, if try this at a hotel you will likely get arrested. You'll also rest easy knowing the kids are safe by staying in a private home with just the family rather than in a hotel filled with strangers. Our vacation home rentals in Orlando, Florida near Disney and other areas of Florida often are in gated communities or at the very least safe neighborhoods with security.
Benefit #3: Dining in
With a family of four, food can be one of the most costly expenses on your entire trip. Between three meals a day plus snacks, it add ups quick. A major advantage of renting a vacation home near Disney in Florida instead of a hotel is having the ability to prepare and cook meals and snacks at home. You'll also be able to eat breakfast on your time, not the time that your hotel decides to serve it. It's also important to realize that, yes, you're on vacation, so treat yourself and the family to a couple nights out on the town, but for the majority of time, use that fabulous, state-of-the-art kitchen!
Benefit #4: Space
Yes, the kids don't have to share a bedroom! No fighting over who sleeps where and who gets their own bed. Vacation home rentals are a fantastic option if you are planning a trip with either extended family, in-laws, or your friends and their families. You will still be able to rent one vacation home for everybody and not have to be split up on different floors if you were renting hotel rooms. One of our luxury villa rentals in Orlando, Florida can sleep 16 and cost only $165 a night. We have thousands of vacation home rental options with the best prices. You won't have to sleep next to your parents snoring, your kids arguing, or your in-laws judging!
Benefit #5: Amenities
This may be something that you might think you'd be giving up by staying in a vacation rental home, but on the contrary, it's quite the opposite. Vacation rental homes can offer all the same extras, if not more than you would get at a hotel. If amenities are important to you and your family, make sure you check those boxes when searching for a rental home. You can have a laundry service, a rental home with a home theatre, a private pool and hot tub, Wifi, and parking just to name a few.

There are so many advantages of renting a luxury vacation home for your next Disney family vacation. You will hands-down have a better vacation by choosing to renting a home over a hotel for just any one of the advantages listed above. The majority of the homes are less than ten minutes from all of the popular attractions. So, make sure you consider all of the options before selecting a rental home, and remember to have fun!

Click here to check out our affordable vacation home rentals near Disney in Florida and in other areas across the sunshine state.

Written by Steve Casey of Florida Sunshine Vacation Rentals
Look no further for
vacation home rentals near Disney in Florida
! Florida Sunshine Vacation Rentals has thirty years experience providing guests with the best Florida dream vacation experiences possible, as well as a level of customer service that exceeds exceptions. They're based in Orlando with a satellite office in the United Kingdom, so they know how to provide superior service to domestic and European guests.
Feel free to call upon their expert team to provide you with a smooth booking experience for your
vacation rental home, condo, villa or townhouse in Orlando, Florida
or other Florida destinations. We will help you do all of the planning so you and yours can start making memories!
For more information visit
www.floridasunshinevacationrentals.com
.
Interested in writing a guest blog for Florida Sunshine Vacation Rentals? Send your topic idea to

[email protected]

.
All data and information provided on this site is for informational purposes only. Florida Sunshine Vacation Rentals makes no representations as to accuracy, completeness, current-ness, suitability, or validity of any information on this site and will not be liable for any errors, omissions, or delays in this information or any losses, injuries, or damages arising from its display or use. All information is provided on an as-is basis.