Reasons a Vacation Home Rental is Good for Big Families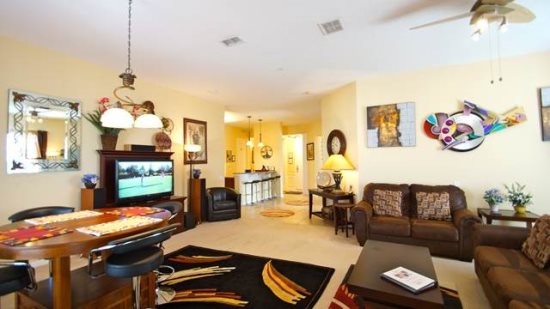 A big vacation with your extended family can be a great time to bond and build memories. But it can be hard to find accommodations to fit your entire brood. Hotel rooms get expensive and it's difficult to make sure all the rooms are next to each other or even on the same floor. In your down time you want to relax but you still want to spend time together but how can you do this when everyone is in a different room? The solution is to get a vacation home rental!
More bedrooms
With hotel rooms, usually 4 people end up sharing a room and beds which doesn't leave a lot of room for privacy. With a vacation home rental in Orlando, Florida near Disney, each child can get their own bedroom so the whole family isn't crammed into one space. No more fighting kids!
More bathrooms
Each hotel room has only one bathroom – that's a small space to share with 4 people. Vacation home rentals can have multiple bathrooms depending on how big the home is. 2 bathrooms for a 4-5 person group is a lot better than 1.
Separate spaces
While a hotel room has only one main space where you sleep, eat, and relax, a vacation home rental has separate spaces for each activity. You have a kitchen, living room, bedrooms, bathroom, and maybe even a dining room and game room.
Big kitchen
Vacation home rentals have a full-sized kitchen full of all the necessary equipment like a fridge, microwave, oven, pots, pans, plates and more. With a big family you'll save a ton of money on cooking at the rental rather than eating out for every meal.
Private pool
Some rental homes have their own pool or Jacuzzi in the backyard – that means no having to share with other travelers! Your family will have the pool all to yourselves to use whenever you feel like it.
Living room
Want the family to spend time together during your downtime? A vacation home rental is perfect for this because it will have a living room for the family to relax in. No more crowding around in a cramped hotel room and when it's time for lights out everyone can head off to their own bedroom.

Click here to check out our affordable vacation home rentals near Disney in Florida and in other areas across the sunshine state.
Written by Steve Casey of Florida Sunshine Vacation Rentals
Look no further for
vacation home rentals near Disney in Florida
! Florida Sunshine Vacation Rentals has thirty years experience providing guests with the best Florida dream vacation experiences possible, as well as a level of customer service that exceeds exceptions. They're based in Orlando with a satellite office in the United Kingdom, so they know how to provide superior service to domestic and European guests.
Feel free to call upon their expert team to provide you with a smooth booking experience for your
vacation rental home, condo, villa or townhouse in Orlando, Florida
or other Florida destinations. We will help you do all of the planning so you and yours can start making memories!
For more information visit
www.floridasunshinevacationrentals.com
.
Interested in writing a guest blog for Florida Sunshine Vacation Rentals? Send your topic idea to

[email protected]

.
All data and information provided on this site is for informational purposes only. Florida Sunshine Vacation Rentals makes no representations as to accuracy, completeness, current-ness, suitability, or validity of any information on this site and will not be liable for any errors, omissions, or delays in this information or any losses, injuries, or damages arising from its display or use. All information is provided on an as-is basis.