Vacation Home Rental Deals Near Disney in Florida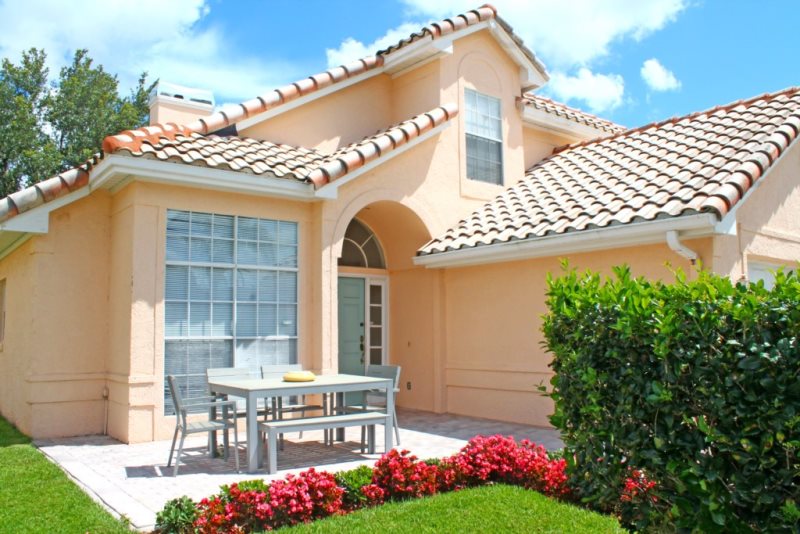 While many people still choose to stay in hotels during their Disney vacations, vacation home rentals have been becoming more and more popular due to their conveniences, affordability, and choices. With a hotel, you work around what the hotel has to offer, but with a vacation home rental, you can literally build the rental to suit what it is exactly that you need. Okay, well technically you can't really build it, but you can build it figuratively. If having a gym, washer and dryer, arcade, and shuttle bus options are all your non-negotiables, that can happen. With a vacation home rental, you're making the vacation fit you and your lifestyle, not the other way around. This is a great way to make your vacation for you and your family a truly unique experience. To me, where you stay is just as important as what you are actually doing on a vacation. So before you book your hotel for your next Disney vacation, check out these five affordable vacation home rentals near Disney in Florida and I bet you will think twice!
Deal #1: 3 Bedroom Lake Front Oasis in Lake Berkley Resort, $83.00/night
One thing that is important when getting a vacation home rental when you're planning on taking the family to Disney World is making sure that your rental is located close to Disney, or any other theme parks and attractions that you plan on visiting. Although many hotels are located right on the Disney World compound, the luxury of convenience far outweighs what they're charging you to stay there. The "value" hotels that have three beds cost $400.00/night. This three bedroom in Lake Berkley Resort is $83.00/night! It's 6-7 mile drive to Disney World, a private, screened-in pool area, washer/dryer, fully equipped kitchen, etc., etc.! The best idea is to hit the parks when they open at 9:00 AM, head out when they start to get packed in the afternoon, come back to the rental for lunch, lounge and nap, then go back to the park for round 2, feeling refreshed and recharged. This rental resort also offers a BBQ area, game room, fitness center, and a volleyball court. This is a perfect option for a family of four or five that are looking for an affordable vacation home rental near Disney in Florida.
Deal #2: Modern 3 Bed 3 Bath Townhome with Splash Pool, $99.00/night
This is another great affordable vacation rental home. Located 10 miles from the gates to Walt Disney World, this modern three bedroom, three bathroom is a great option for a medium-sized family or two small families. This rental home boasts its own private splash pool, great for the kids or just to quickly cool off, a secluded balcony, a formal dining room, dishwasher, central air conditioning, and every room is fully furnished and fully equipped. Locked, stocked, and ready to go! This is one of the area's finest vacation spots and you can get it for less than $100.00/night! The resort also provides its guests with a children's playground, a clubhouse, pool, game center, and gym.
Deal #3: 3 Bed 3 Bath in Regal Palms Resort in Davenport, $99.00/night
Another beautiful, cost-friendly vacation rental home, perfect for one or two families. The upside to sharing the rental with a friend and their family is splitting the cost. And space would not be an issue considering two of the bedrooms have king and queen beds. Along with being a fabulous price, this rental can sleep up to eight, a family room with a flat screen, HD cable, and high-speed wifi, fully-equipped kitchen and laundry room, and keyless entry. Less than 15 miles to Disney, the Regal Palms Resort offers its vacationers a fitness center, health spa, game room, sauna, two pools with a water slide, poolside tiki bar, and much, much more. With this type of vacation rental villa, you might not make it out of the resort during your vacation!
Deal #4: 3 Bedroom 3.5 Bath Vista Cay Resort Townhome, $169.99/night
This is still a deal even when renting this resort townhome with just a single family. Two hotel rooms could cost easily double what the whole townhome would cost, minus all the privacy and amazing things that come with the townhome, of course! Hopefully you won't miss the lack of privacy! This Vista Cay Resort Townhome is only a few miles from Disney World and they offer a shuttle to and from the amusement park, so you don't have to worry about parking, packing up the car, or packing up the kids when you take your mid-day rendezvous back to the hotel for a little R&R. This townhome has three bedrooms, three and a half baths (please tell your teenage daughter she has her own bathroom, and she will love you forever, I swear!), cable TV, washer/dryer, and a garage if you happen to drive down or rent a car. The Vista Cay Resort has many luxurious furnishings and some of the amenities includes movie theatre, video game arcade, pool with a hot tub, fitness facility, and a shuttle bus to and from Walt Disney World, Universal Studios, and Seaworld, all for your ultimate convenience!
Deal #5: Gorgeous 8 Bedroom Pool Home In Champions Gate Resort, $379.00/night
Or maybe you're looking for a vacation rental home that is big enough of the whole family. Yes, I'm talking about you, your spouse, your kids, the in-laws, your parents, your brother and his family, and your sister-in-law and her family. And you could even pick up a couple friends along the way. The great part about bringing such a big party like this is you can get a high-end, luxurious rental but when you split the cost six ways, it's beyond affordable...it's very affordable! This charming palace is a short 12-mile drive from Disney World, a formal dining room, flat screens in every bedroom, two family rooms, private screened-in pool and game room with a pool table. Champions Gate Resort is a 24-hour manned and gated community. Some of the amenities available to its guests is an 18-hole golf course, movie theatre, game room, tennis/volleyball courts, splash park, and tiki bar. This is a sure-fire way to hit a hot run with the family, mom!
Well, I don't know about you, but just by looking at these five fantastic affordable vacation rental homes makes me want to book my next Disney World vacation immediately! Whether you're traveling solo, as a twosome, a family, or a whole brigade, there are such fabulous deals that you will never be caught checking into a hotel again! For more unbelievable deals on affordable vacation rental homes near Disney, check out https://www.floridasunshinevacationrentals.com/ for all different options. See, I told you I'd make you think twice!

Written by Steve Casey of Florida Sunshine Vacation Rentals
Look no further for
vacation home rentals near Disney in Florida
! Florida Sunshine Vacation Rentals has thirty years experience providing guests with the best Florida dream vacation experiences possible, as well as a level of customer service that exceeds exceptions. They're based in Orlando with a satellite office in the United Kingdom, so they know how to provide superior service to domestic and European guests.
Feel free to call upon their expert team to provide you with a smooth booking experience for your
vacation rental home, condo, villa or townhouse in Orlando, Florida
or other Florida destinations. We will help you do all of the planning so you and yours can start making memories!
For more information visit
www.floridasunshinevacationrentals.com
.
Interested in writing a guest blog for Florida Sunshine Vacation Rentals? Send your topic idea to

[email protected]

.
All data and information provided on this site is for informational purposes only. Florida Sunshine Vacation Rentals makes no representations as to accuracy, completeness, current-ness, suitability, or validity of any information on this site and will not be liable for any errors, omissions, or delays in this information or any losses, injuries, or damages arising from its display or use. All information is provided on an as-is basis.