Featured Property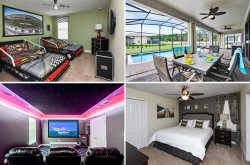 1461RFD. Amazing 8 Bedroom ChampionsGate Golf Resort Pool Home
Guest Reviews
GORGEOUS!!! Left on Jun 23, 2016 for a stay in Jun 2016 OMG, my family and I absolutely loved this beautiful place. We also enjo...
Pastors & Leaders Conference Left on May 11, 2016 for a stay in Apr 2016 The house was nice, clean and in a great location. The sp...
Centrally located. Left on Apr 14, 2016 for a stay in Apr 2016 Very centrally located. Nice, clean townhouse with lovely furniture...
View More Reviews
Available Properties
Loading Available Properties
Flexible Dates? View other Properties close to your Date Range.
Available
Unavailable
Check-in
Check-out
Not finding what you're looking for?